Future Factor 2019-2020 (open to any students at a United Learning School from years 7-13)
Future Factor is an exciting competition which will help you to understand some of the great employment, university and other future options available to you…. You'll learn about amazing future options, develop skills valued by employers and maybe even win Amazon vouchers if you win a category. Certificates are also available for highly commended entries. So what do you have to do?
The brief:
Create an advert for a career, degree or other future Opportunity like an apprenticeship – you could make it with any media you like, such as a video on your phone or a poster
Create a person spec; a description of what the person for your chosen entry would need to possess.  For example: What qualifications, skills, experience and interests are required?  You could also provide information on further ways to find out about your chosen entry, such as web links, books, articles or podcasts.
---
PLEASE MAKE SURE YOU SEE THIS POSTER WHICH GIVES YOU IMPORTANT GUIDANCE AND INFORMATION.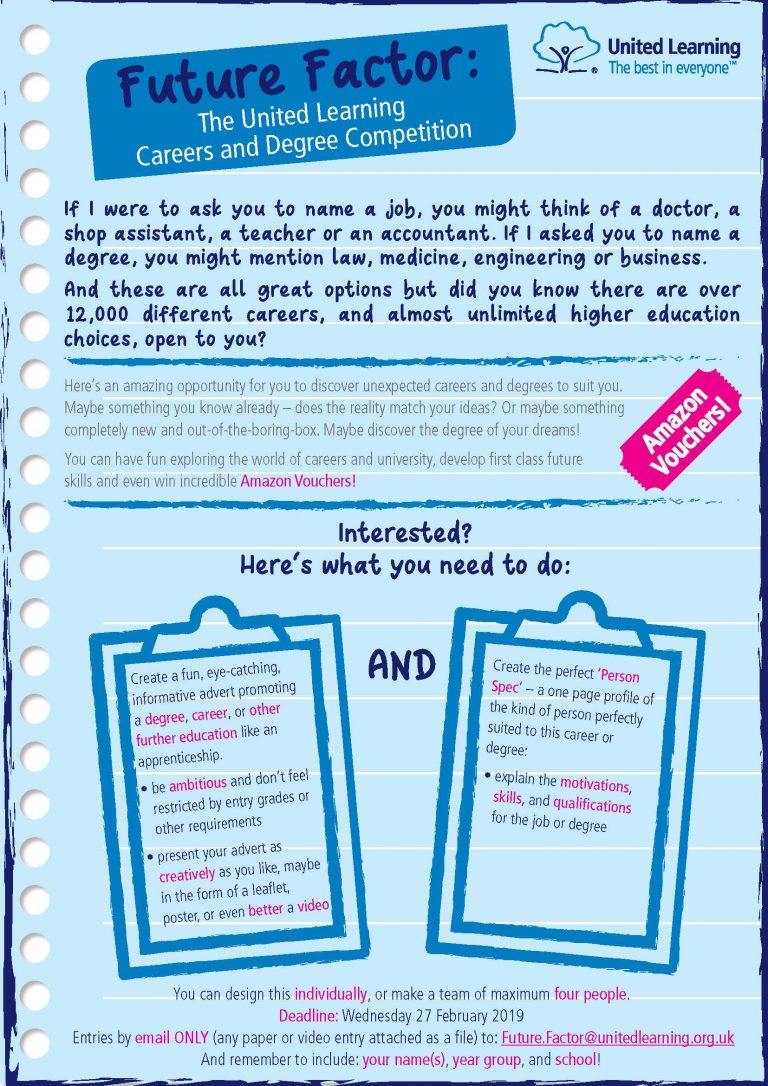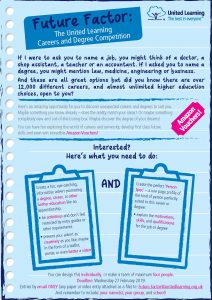 FOR RESOURCES ON HOW TO EXPLORE YOUR CHOSEN ENTRY, PLEASE THEN SEE OUR RESOURCES SHEET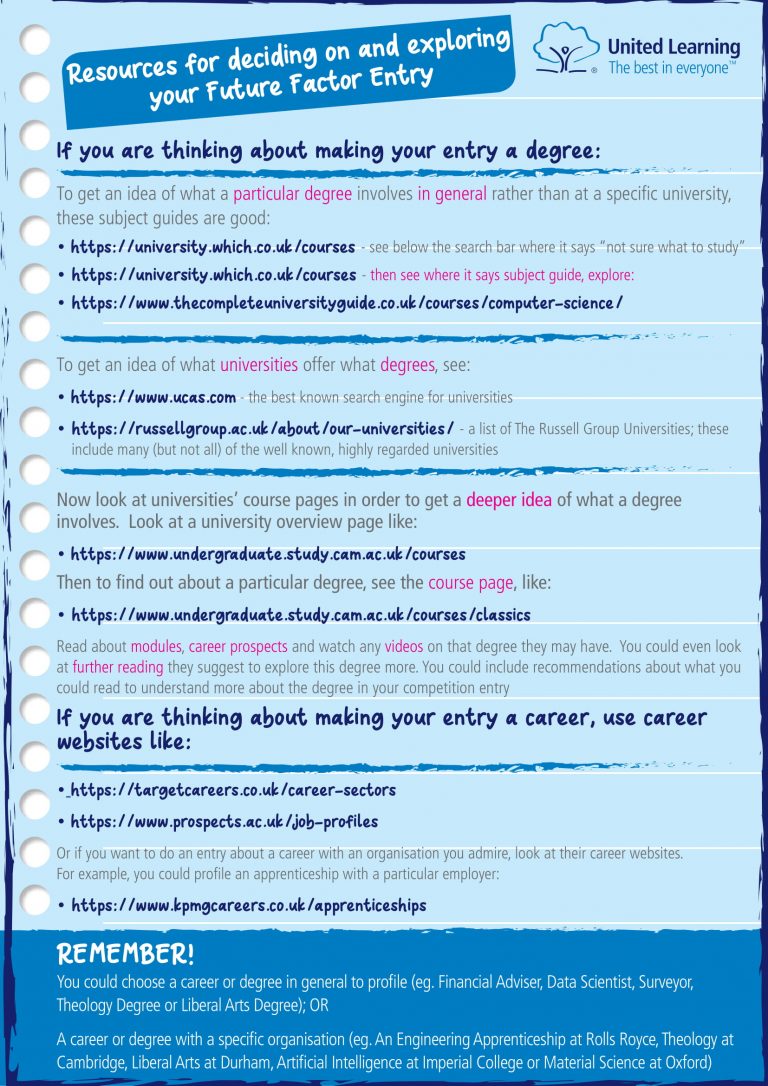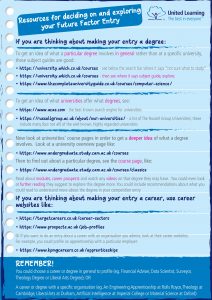 FOR EXAMPLES OF ENTRIES, SEE HERE:
An advert and person specification for an unusual and fascinating degree at Cambridge University called Anglo, Saxon, Norse and Celtic Studies (ASNAC).  Watch this girl's video to find out more…
ADVERT FOR ASNAC:
PERSONS SPECIFICATION FOR ASNAC: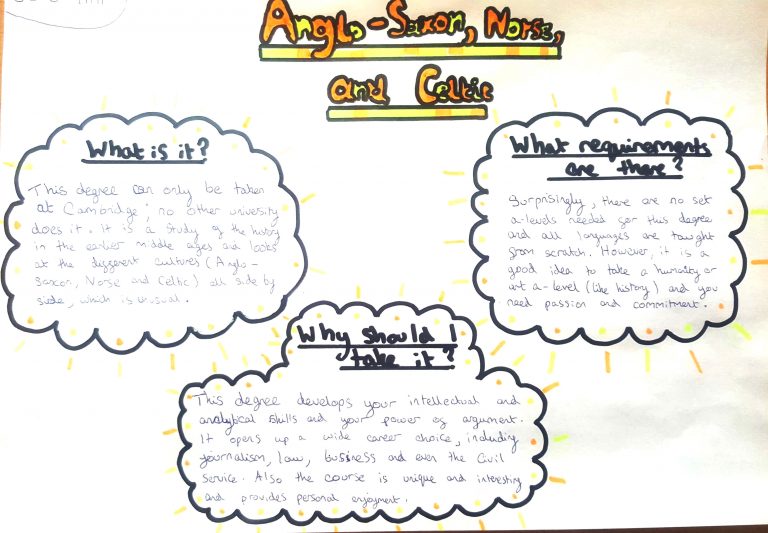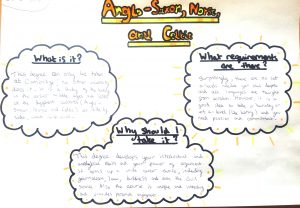 NOTE:
If you choose a degree like this and worry what you will be able to do with it, REMEMBER that at least two thirds of careers can be entered with any degree.  For example, graduates of Anglo Saxon Norse and Celtics Studies go on to a very wide range of top careers – see for yourself:
http://www.careers.cam.ac.uk/subjects/asnc.asp
The same goes for graduates of other academic degrees that seem unrelated to careers, yet still have great career prospects. This is because employers value the transferable skills the degree teaches; they do not necessarily require technical skills taught to their recruits at university.  So do explore the wide variety of subjects available, from Classics, Theology or Languages to Earth Science or Material Sciences.  Graduates of every degree go on to be lawyers, bankers, management consultants, diplomats and much more besides, particularly when their degree is gained from a top university, such as one from the Russell Group.
TO FIND OUT ABOUT THESE MORE UNUSUAL DEGREE OPTIONS, LOOK AT RELATED DEGREES TO MORE MAINSTREAM OPTIONS ON UNIVERSITIES' COURSE WEB PAGES: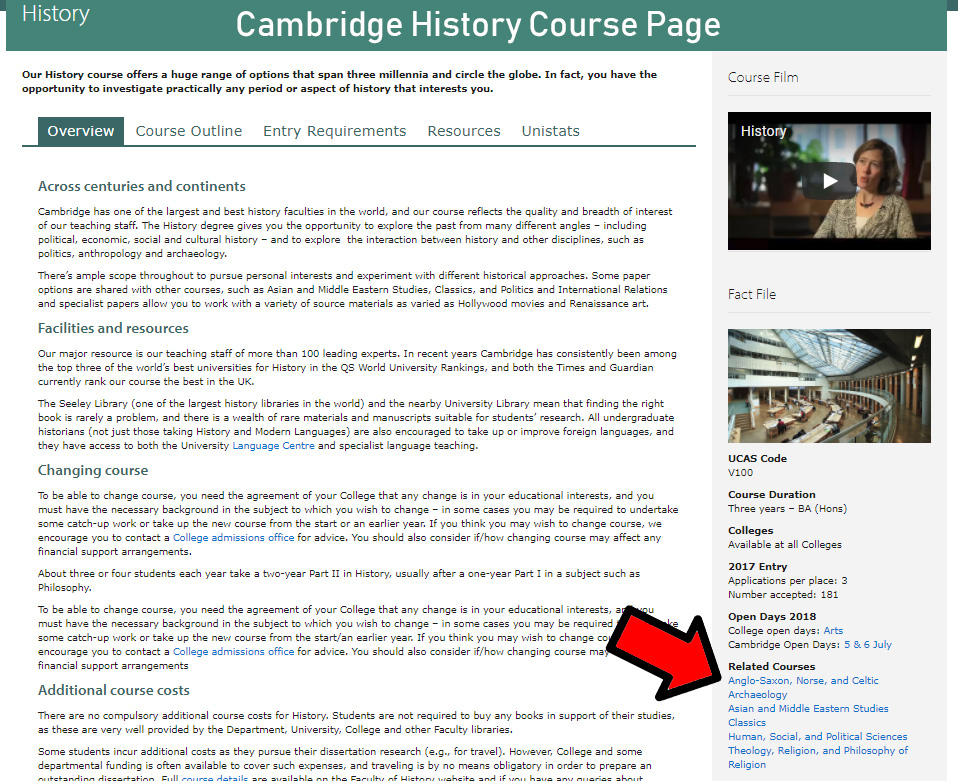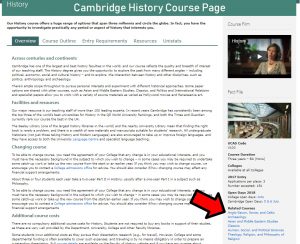 AN ADVERT AND PERSON SPECIFICATION FOR AN ACCIDENT AND EMERGENCY DOCTOR:
PERSON SPECIFICATION FOR A&E DOCTOR:
---
WHAT YOU HAVE TO DO
First make sure you have read the Competition Poster and then the Resources Sheet
The deadline for submitting your entry is Wednesday 22 January 2020
Entries by email only with entry attached (advert and person spec) to Future.Factor@unitedlearning.org.uk. Surbiton High School Year 8 pupils must use the instructions issued at your PSHE to submit their entry and NOT use this email address.
You can work on your own or in teams of up to four students
Please ensure you include the name(s), year group and school in the email you send.