This year, International Week delved into understanding more about cultures around the world and the unique differences in the way we live. Throughout the week, the girls looked at how culture changes greatly from country to country and that many of these differences can be visible such as the food we eat, the languages we speak and the clothes we wear. However, some cultural differences are invisible and harder to spot. Our Monday assembly looked deeper at how we can understand more about the cultural differences that can't be seen, such as attitudes to religion, manners, education and family. The girls were challenged to broaden their knowledge of other cultures and see how this could enrich their language learning. 
Before School, KS2 enjoyed an international taster breakfast with a variety of dishes from different countries. Dishes ranged from a continental breakfast, a selection of dim sum to Brazilian bread and a breakfast curry. The girls were challenged with a daily quiz to think about the country of origin of the dish and its cultural relevance.  
Exploring our theme of visible and invisible cultural differences, the girls were asked to take a 'lucky dip' when passing the Languages Board. Could they say 'atchoo' in another language and know different customs that are said or done when someone sneezes? Could they work out what might be considered lucky or unlucky in different cultures? 
In the Dining Hall, the girls were able to view different traditional dress from around the world. Adorning our mannequins were kimonos, ponchos from South America, traditional Indian costumes and Russian and Spanish dresses. During lunchtime, girls took part in the 'polite' or impolite' challenge to explore more about cultural attitudes around mealtimes. 
Treehouse Storytime returned at breaktime each day as staff read stories in French, Spanish, Chinese, Italian and German. In lesson time, Year 1 girls focused on their listening skills to identify the languages heard in a song and girls in Year 2 learned colours in Spanish. Year 3 enjoyed different board games to learn new greetings from around the world and Year 4 took part in a Language Escape Room challenge. Year 5's research on South American countries culminated with detailed and informative presentations, and Year 6 reflected on the cultural and language activities from their residential trip to France.  
International Day on Friday saw a second yet colourful assembly as the girls wore traditional costumes from around the world and they reflected on why it is important to be proud of their cultural and linguistic diversity. We ended the week with videos from the Year 6 French residential trip. The girls put their language skills to the test throughout each day at an immersive language centre and the trip provided lots of opportunities to explore and embrace different aspects of French culture.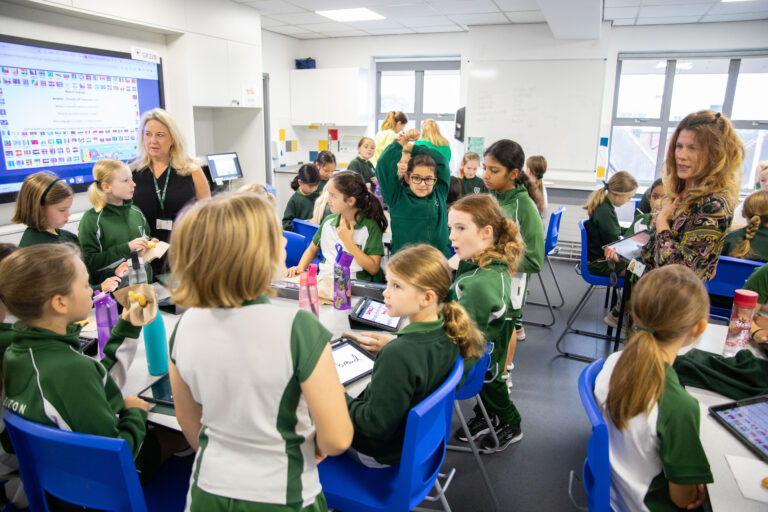 Categories:
Girls' Prep School