On 28 February, two Year 12 Young Enterprise teams competed in the annual Young Enterprise London Trade Fair and the Old Spitalfields Market. Both teams came away with a winning title.   
Mode De Vie, managed by Fatima R, won the National competition for the Best Company Advert and Sakthy V, MD of Iris, won Future Female Leader, competing against 60 London schools, including Tiffins, Lady Eleanor Hollis, Reeds & Kingston Grammar School. Congratulations to everyone involved!  
Sakthy and Fatima share their experiences…
"Spitalfields truly felt like a pinnacle of our efforts in team Iris. For months we'd been planning our product & spent hours hand-crafting our candles, designing our packaging & booklets, and meticulously ensuring the quality so that they were ready to be sold to the busy London public. These markets were now an opportunity to gain real-life experience in selling & how to approach people, as well as having friendly competition with the other teams for sales. We also pitched our product to the judges as they came round to each of the 50 companies there at the market & decided the winners for 5 awards. I think my whole team will agree with me when I say it was an extremely rewarding experience to see so many people buying something we had made completely by ourselves, from scratch.    
As time flew by, we enjoyed a wonderful lunch in the Spitalfields market & we were now eagerly waiting for the judges' results. Due to the loud hubbub of the market, we were struggling to hear what the judges were saying & so it was quite funny to look back at our rather delayed reactions on video when I was awarded Future Female Leader out of the 50 other companies present in the market. Swiftly after we went up to receive the award & take pictures with the judges, we were on our way home along with some celebratory ice cream and a certainly enthusiastic karaoke in the minibus! I also wanted to take this moment to say thank you so much to Mrs Sharp, Mr White & Mr Sanders for enabling us to have such a wonderful experience & giving us such wonderful support & guidance throughout our time in Young Enterprise!"  – Sakthy, 12P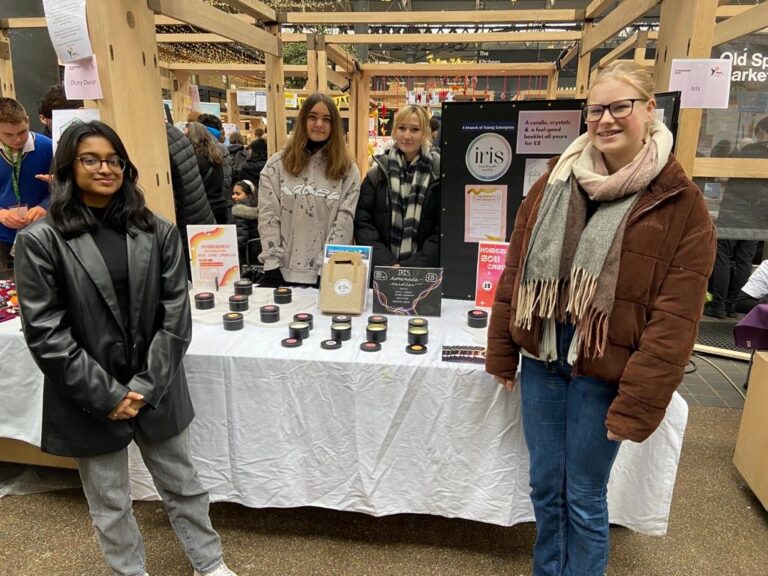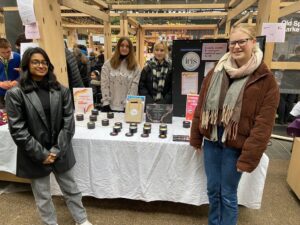 "The Old Spitalfields market was our second trade fair, so we knew what to expect: persuading people who really didn't want to talk to us into buying our products. However, we were all excited, my team found out during the journey that the marketing advert we produced had won the national Young Enterprise competition! The pride and prize money raised the spirit of the team and we were ready to be salespeople. When we got there, we found our stall and set it up, realising that the market was much larger than we expected, with over 50 schools present, all selling a diverse range of items from candles to puzzles, and our very own self defence key chains. Alongside selling our Self Defence Key chains and branded tote bags we attended a talk by a former Surbiton High pupil who now has her own business and is one of the competition judges, she explained how she began her music licensing company and the challenges she faced when setting up her company. Many members of my team hope to be in her position one day!"  – Fatima, 12T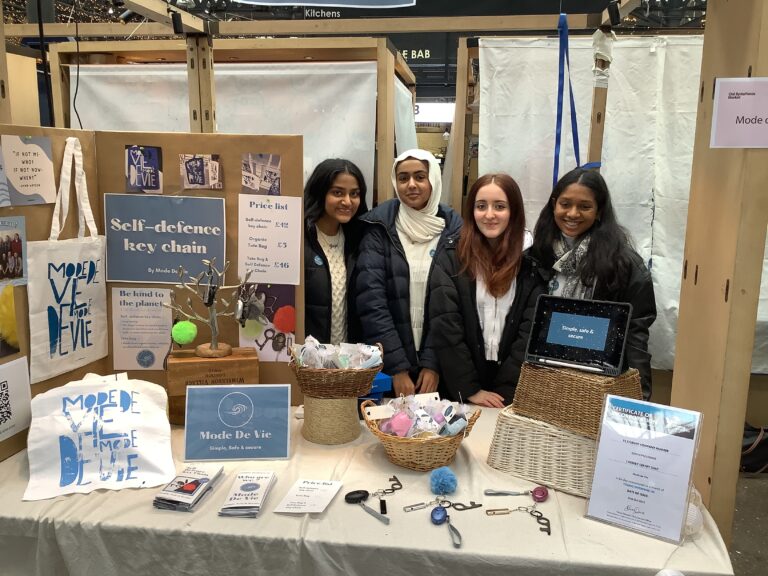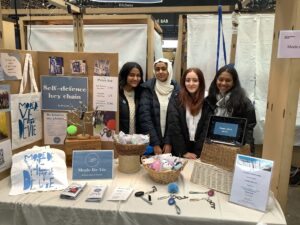 View our full list of co-curricular activities here.
Categories:
Enterprise
Senior School