On Wednesday 30 March and Thursday 31 March, Year 6 took to the kitchens becoming chefs for the day. The girls were tasked with creating signature dishes from their own French Bistro which would be served to the Chefs from The French Table.
Planning for their French Bistro began with the girls devising a 3-course menu alongside a logo, a jingle and a concept to entice potential customers to their bistro. The girls embraced the challenge with gusto and flair and devised menus featuring traditional French dishes such as tartiflette, croque monsieur, macarons, madeleines, crème brulée as well sweet and savoury crêpes.  Many groups added to their menus with a range of aperitifs as well as customising the traditional French drink grenadine.
Working in groups throughout the day, the girls displayed excellent teamwork skills and maintained their composure in a busy kitchen. Dishes were created from scratch with the girls learning new culinary skills along the way. After a final flurry of washing up, the girls' artistic skills shone as they made the final touches to present their dishes. Before the arrival of the judging team, each group practised presenting their dishes and the ingredients used in French as well as explaining the cooking methods used.
The day culminated with the arrival of Sarah and Eric Guignard from The French Table to talk to the girls about their dishes. Prizes were awarded for best presentation in French, most creative display, authentic French cuisine and most creative logo and jingle.
Throughout the day, the girls impressed us all with their creativity and artistic vision. Their sensible approach to using a variety of new kitchen equipment, their ability to keep calm and communicate with each other to produce multiple dishes under time pressure was a huge challenge to which they rose spectacularly.
Encore merci les filles!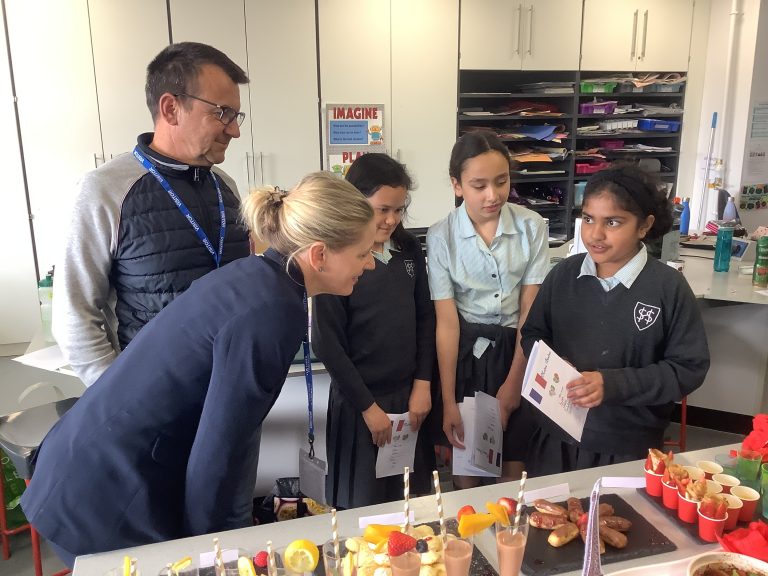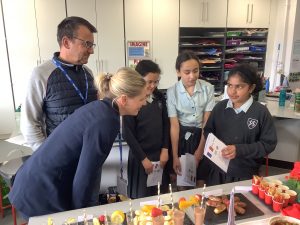 Categories:
Girls' Prep School