Team Ski had another busy weekend just gone at the Surrey School Championships. It was an early start with the coaches arriving at Aldershot to set up base at 7.15am ready for our skiers to arrive.
The morning was kicked off with the Prep School race. It was great to see that we were able to enter two teams from the Girls' Prep this year, and weren't we glad we did with both teams ending up on the podium.
What a great morning – girls racing for the first time, being supported by those who race regularly, really showing what Surbiton Ski Club is made of.
Prep A-team – Winners (Talula, Isabella, Gigi, Jolie)
Prep B-team – 2nd (Katharine, Phoebe, Millie, Poppy)
Overall individual Prep School female – clean sweep from the Girls' Prep:
3rd – Talula
2nd – Gigi
1st – Jolie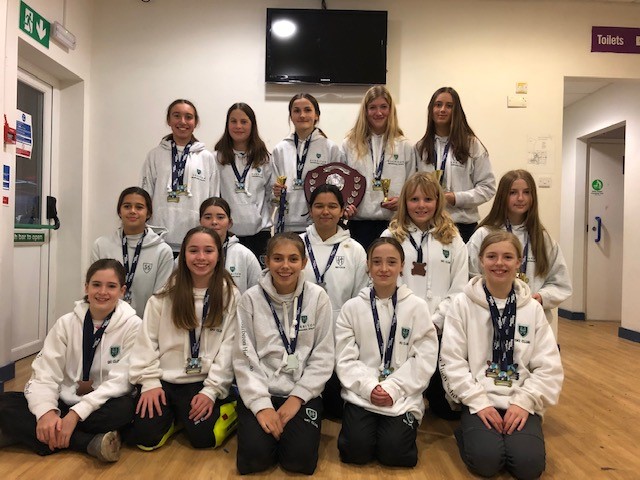 The senior teams then started to arrive for their race in the afternoon. Again, it was great to see how the Ski Club and programme has developed with five teams there representing Surbiton High School.
There was excellent skiing all round, making the ski staff and coach as well as parents super proud.
And the medals just kept coming!
A clean sweep for the Years 7 to 9 teams:
A-team – Winners (Emily, Freya, Amy-Rose, Ciara)
B-team – 2nd (Darcy, Alice, Saskia, Lola)
C-team – 3rd (Rose, Berry, Elizabeth)
Overall individuals, with Surbiton High School cleaning up again:
3rd – Freya
2nd – Ciara
1st – Emily
Senior Team (Year 10+)
A-team – Winners (Evie, Charlotte V, Ellie, Ella)
B-team – 4th (Beatrice, Emilie, Charlotte R)
With Evie taking 2nd overall by just .01 of a second.
It really was a long, tiring, emotional, exciting, truly fantastic day!
Well done to all the skiers, coaches, staff, and parents for all their hard work and support.
Keep it up!
– Miss Archbold, Head of Skiing
Categories:
Girls' Prep School
Senior School