23 April is always a red letter day for Lit Soc and the English Department as it is Shakespeare's Birthday, and this year was extra special as celebrations in 2020 had to be so muted. (Bill and Ms Huntley bonded in the Library by themselves… sob!)
So, this year we went to town and celebrated with new performances, new participants and a new venue… the tennis court!
This substitute Globe seated 75 or so Year 7s and the groundlings outside the fence, jockeying for position, were all those pupils there to support their friends and teachers as they acted their hearts out. The sun smiled, the huzzahs echoed and the words of Will resounded across the quad.
Special for 2021 were Mrs Patel reading Anne Hathaway by Carol Ann Duffy, a beautiful sonnet about her husband, Miss Riou reading "The Darling Buds of May" aka Sonnet 18, Miss Milton reading from Maggie O'Farrell's wonderful, award-winning novel, Hamnet (well worth reading), Mr Newton joining the well-established fight team (Admiral's Men) from R&J, Ms Rusholme as Paulina and Maisie from Year 12 as Hermione from The Winter's Tale, Miss Plumley as Lady Macbeth and Mr Newton as her spouse (too nice to be Macbeth, Mr Newton!), Loulou Beale performing Benedick on Claudio in love, (Much Ado) and the Year 7 Academic and Performing Arts Scholars (in chorus) giving us Puck's last speech from A Midsummer Night's Dream. And they were all too too marvellous!
Continuing traditions from previous years were Mr Gibbons as Romeo, joined by Mrs Leigh in the balcony scene, courtesy of the Library ladder, the witches – this year performed by Miss Street, Mrs Goldhawk and Ms Rusholme with the help of Year 7, and Ms Huntley as Mistress of Ceremonies teaching the audience to participate, shouting "Huzzah".
Our revels were truly splendid and thanks to all who came, saw, and those who conquered their nerves to take part. We was slammin' alright!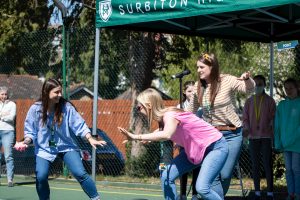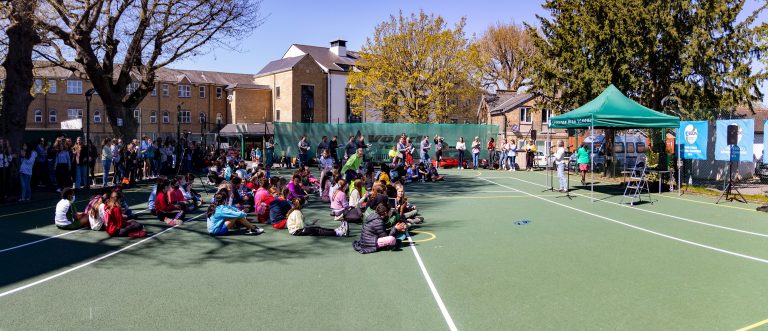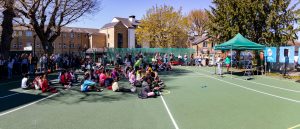 Categories:
Girls' Prep School